Post by ProBoards Help Guide on Apr 22, 2013 15:50:19 GMT -8
The Shoutbox is an integrated live, instant messaging chat room for your forum. Since the Shoutbox is not designed as a permanent means of posting messages, shouts are not archived. However participants will be able to view up to 20 of the most recent shouts.
The Shoutbox displayed in the admin panel is the same live Shoutbox that is displayed on your forum, with the exception that 200 of the most recent shouts are shown allowing for you to review the shouts.
---
To enable the forum's shoutbox, visit the admin panel and enter the
Settings
section. Select
Forum Settings
from the following menu. Select the
Shoutbox
tab on the next page.
Under the Settings heading are several options to change how your shoutbox appears and functions.
Shoutbox - Choose whether to enable or disable your shoutbox.
Show Send Button - Choose to add a Send button or to have users press the Enter key to send their messages.
Allow Guest Shouts - Choose whether you want to allow guests to post in your shoutbox or to only allow registered members of your forum to leave shouts. To make the Shoutbox only visible to members click here.
New shouts appear at - Choose whether to display shouts in ascending or descending order. Your shoutbox will jump to whichever end contains the most recent shout.
Reply box appears at - Choose whether users type their messages above or below the list of shouts.
Shoutbox Height (pixels) - Set how tall in pixels your shoutbox is.
Shoutbox Welcome Message - Enter an optional message to be displayed at the top of the shoutbox to welcome users.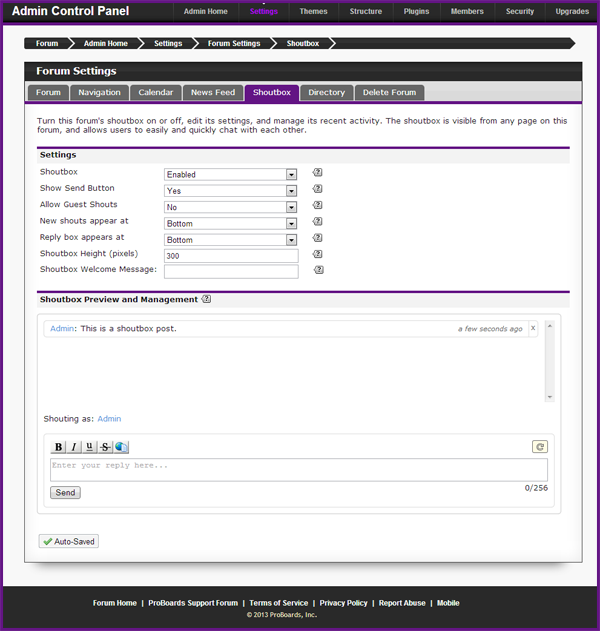 Any changes made in this area are automatically saved.
The
Shoutbox Preview and Management
area shows the current appearance of your shoutbox and allows content moderation via editing or deleting shouts.
To edit an existing shout, hover your cursor over it and an
Edit
link will appear. Click this link and type your replacement message into the reply area, then submit the message.
To delete an existing shout, click on the
x
next to it. Deleted shouts cannot be recovered.
Source:
www.proboards.com/admin-guide/forum-settings/shoutbox