Post by Brian Ordonez on Aug 2, 2018 12:13:34 GMT -8
When adding a custom domain to a forum there are two options: managing your own DNS or allowing ProBoards to manage your DNS for you.
When you manage your own DNS your forum is accessed via a subdomain using a CNAME (preferred) or A records. You retain control of your domain's other DNS settings.
When ProBoards manages your DNS the forum is accessed via the root of your domain by changing your domain's nameservers to point towards ProBoards. The ProBoards nameservers will manage your domain's DNS settings, but your DNS settings in your domain's control panel no longer take effect.
The CNAME method offers the best of both worlds which is why it's labeled as "preferred" on the Custom Domains page. In terms of custom domain setup a CNAME record will work exactly the same as A records do except it obtains the IP addresses from the domain the CNAME is pointed towards similar to how pointing towards the ProBoards nameservers functions. This means that ProBoards will automatically update your A record IPs for you instead of you having to do it manually when those IP addresses expire, and you still maintain full control of your domain's DNS settings on top of that.
A CNAME can point either a subdomain or the root of a domain to a forum. However, not all domain registrars support the use of CNAMEs on the root of a domain. For this purpose, you can point your domain's nameservers towards Cloudflare which does support pointing a CNAME to the root of a domain.
If you'd like the root of your domain to be pointed towards a forum using the CNAME method you can follow the steps below to set up your custom domain.
If your forum resides on a subdomain of your custom domain you can follow the CNAME instructions in Upgrades > Custom Domains in your admin area instead of this guide. This guide is for forums that use the root of the custom domain.
1. Sign up for an account on
Cloudflare
.
2. Once registered and logged in, click on the
Add Site
button.
3. Enter your domain name (ex:
your-domain-name-here.com
) when prompted, then continue.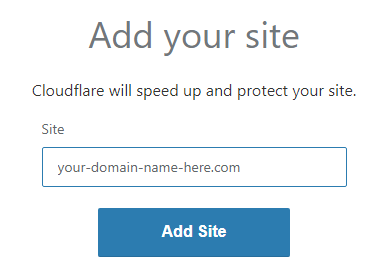 4. Select the Free plan (none of the premium features are required for this guide).
5. You should be taken to your DNS settings following your confirmation of your plan selection. Add a new CNAME record using the information in the below screenshot and click on the orange cloud to change it to a gray cloud. The CNAME should be pointed at
customdomain.proboards.com
exactly as typed in the screenshot below —
it should NOT be pointed at your forum's URL
.

6. Once you've successfully added the CNAME it should appear in the list as shown in the following screenshot:

7. Continue to the final step. You'll be asked to change your domain's nameservers to point to Cloudflare. This must be done through your domain's control panel provided by your domain registrar. If you're unfamiliar with how to change your DNS settings consult your domain registrar's help articles or contact their support team.
8. Click on Continue. Congratulations, you're done setting up on Cloudflare! Your nameserver changes should propagate throughout the Internet over the course of the next several hours.
Once you've completed setup on the Cloudflare end you can navigate to
Upgrades > Custom Domains
in your forum's admin area to finish setting up your custom domain. Click on
I have an existing domain name
to expand the setup instructions, then scroll down to the heading that says
I'm ready, let's continue!
Type your domain name into this section, then click on the
Continue
button.
If your changes aren't currently being recognized by ProBoards you may need to wait a bit longer longer as your nameserver changes may still be propagating. If this continues for several hours create a thread in the
Support Board
for further assistance.