Post by Matej on Feb 22, 2019 14:05:06 GMT -8
Assign Member Group on Registration
We're happy to announce the addition of a new feature that will be available to you soon: Assign Member Group on Registration. You can find a new segment of the Forum Settings > Login & Registration page of your forum Admin Panel called "Assign Member Group on Registration". This feature allows you to automatically assign new members to a group upon registration. To achieve this, enable the feature in your admin panel and assign a group that complies with the restrictions imposed. Any new user account registration after this point will automatically become a member of the group.
What are the restrictions on which group can be used?
The group has two very simple restrictions:
The group cannot be marked "staff"

The group cannot be marked "global"
We have taken this approach to try to eliminate the amount of destructive functionality available to just any newly registered user - there should be no circumstance that a newly registered user should automatically become an administrator with full power. Such an action will continue to require manual intervention.
When will I be able to use this feature?
We will be doing a slow rollout of this feature to all forums. You will see the feature appear in your admin panel over the coming days.
Changing Bookmark Notifications
Our work on v6 has seen a lot of focus placed onto streamlining of both our code and feature functionality.
We took a look at how the bookmarks work, and how you are informed of any changes to those threads you decided to mark as important. In ProBoards v5, you receive an extra menu item ("Bookmarks") when you bookmark a thread. This navigation item can also have a notification bubble indicating that one or more bookmarked threads have been updated. This notification is entirely separate from your other forum notifications. This leads to either the menu item being completely ignored, the notification ignored, or simply the under-utilization of the bookmark feature on forums.
To fix this, we are merging bookmark notifications into the primary Profile Notifications bubble that most users commonly interact with.
Do I need to make any changes to my forum?
The answer for the vast majority of admins will be "no". There is no required change, the notifications for bookmarks will now be merged with the rest of the Profile Notifications, rather than being separate.
For a very small segment of forums, primarily ones with extreme levels of customization, this might change how your notifications are displayed if your code is relying on grabbing the bookmark notification bubble element off the page, since that bubble has been removed.
ProBoards v6 Phoenix: Beta Approaches!
We are almost ready to invite the first admins to try out the beta of ProBoards v6 on some forums. While the details aren't yet completely finalized, we expect to start the beta off with a few direct invites, followed by a more open approach that will allow everyone access to test the beta of ProBoards v6.
Please be patient with us while we work to open up the invites. We want to ensure that we are providing you with a quality service, and it definitely takes time to get right. We do not have a strict timeline for when and how all invites will go out, but you can expect more announcements from us in the coming weeks. At the end of the day, know that we are very excited for all of our users to get access to test v6 and provide feedback to us.
Please remember what a beta is: an unfinished product. We expect you to find and report bugs, as well as give us feedback. To do so, we will be granting access to special boards on ProBoards Support for beta users. Using these boards, you will be able to provide feedback on what you do and don't like, as well as file those bug reports. We will continue to make changes and adjustments to the forum software based on feedback from everyone that participates.
More info on the beta will be coming soon!
Making Plugins in v6
We'll be presenting the next major part of v6 soon: The Plugin Editor. To tide you over until then, here's a little sneak peek: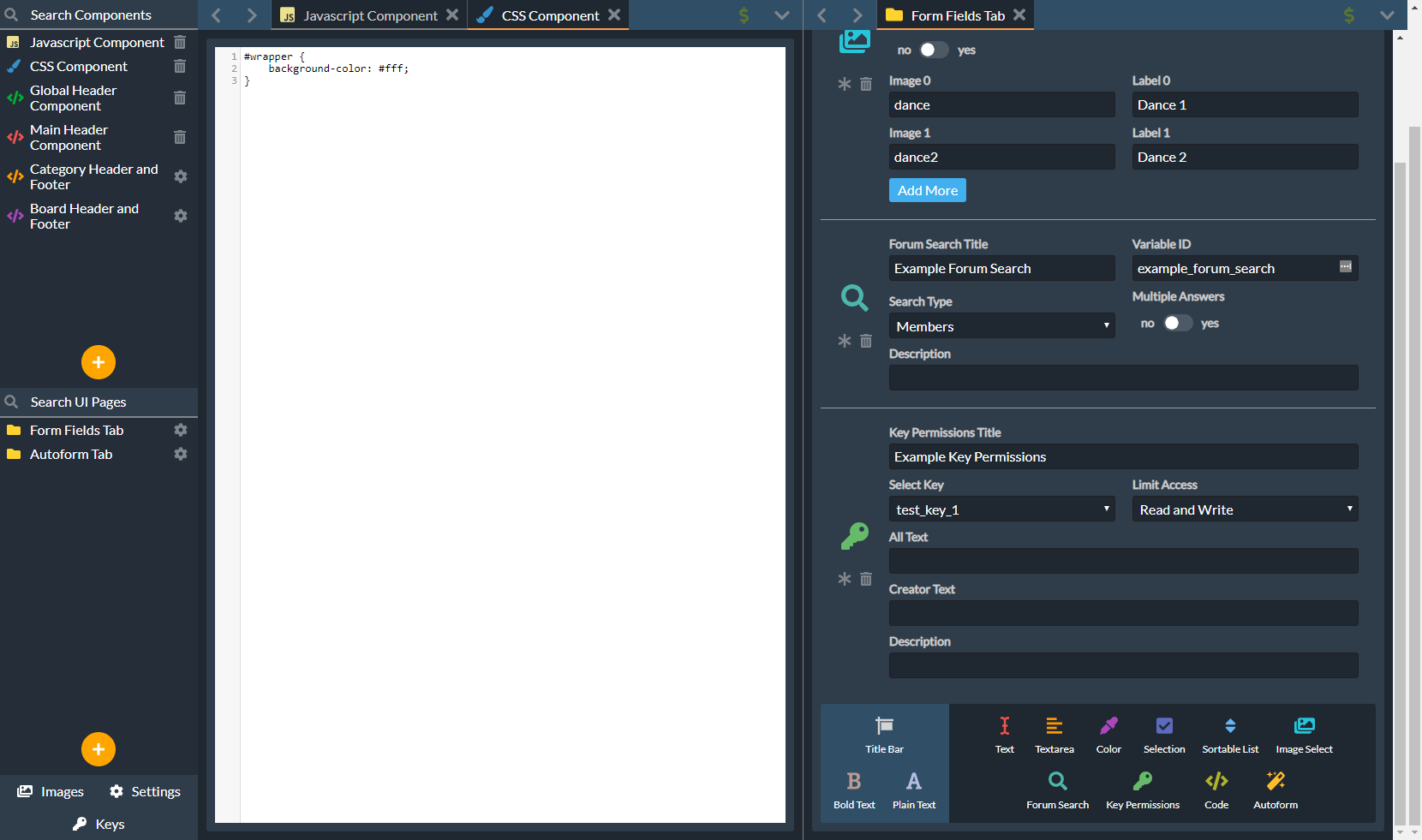 (unfinished plugin editor, for a much larger image, click here)