Post by Matej on Dec 31, 2020 18:54:24 GMT -8
Finding resources for help with your forum quickly and easily is important to anyone - from new users joining a forum for the first time to the forum gurus. Our excellent support team will remain committed to helping everyone on our Support Forum, but for those looking to read and learn at their own pace, we've prepared a brand new help guide - ProBoards Forums Help Guide.
In ProBoards v5 the help guide was a collection of knowledge and answers to common questions when using or running a forum found entirely here on the Support Forum. Extending the same idea, we wanted to provide a central repository of knowledge for all things ProBoards.
The new Help Guide is still early in its development. At this time the primary focus of the guide is in the Admin Panel section, which is already filled with a plethora of information on how to use the administration tools in v6. You will also find some introductory articles in the Getting Started section that should remind of the current Help Guide.
Coming in the near future are two additional sections - Themes and Plugins, providing help and guidance with creating themes and plugins, and help with using the new Theme and Plugin editors. We hope to grow all categories of the guide over time, with new categories being added when needed.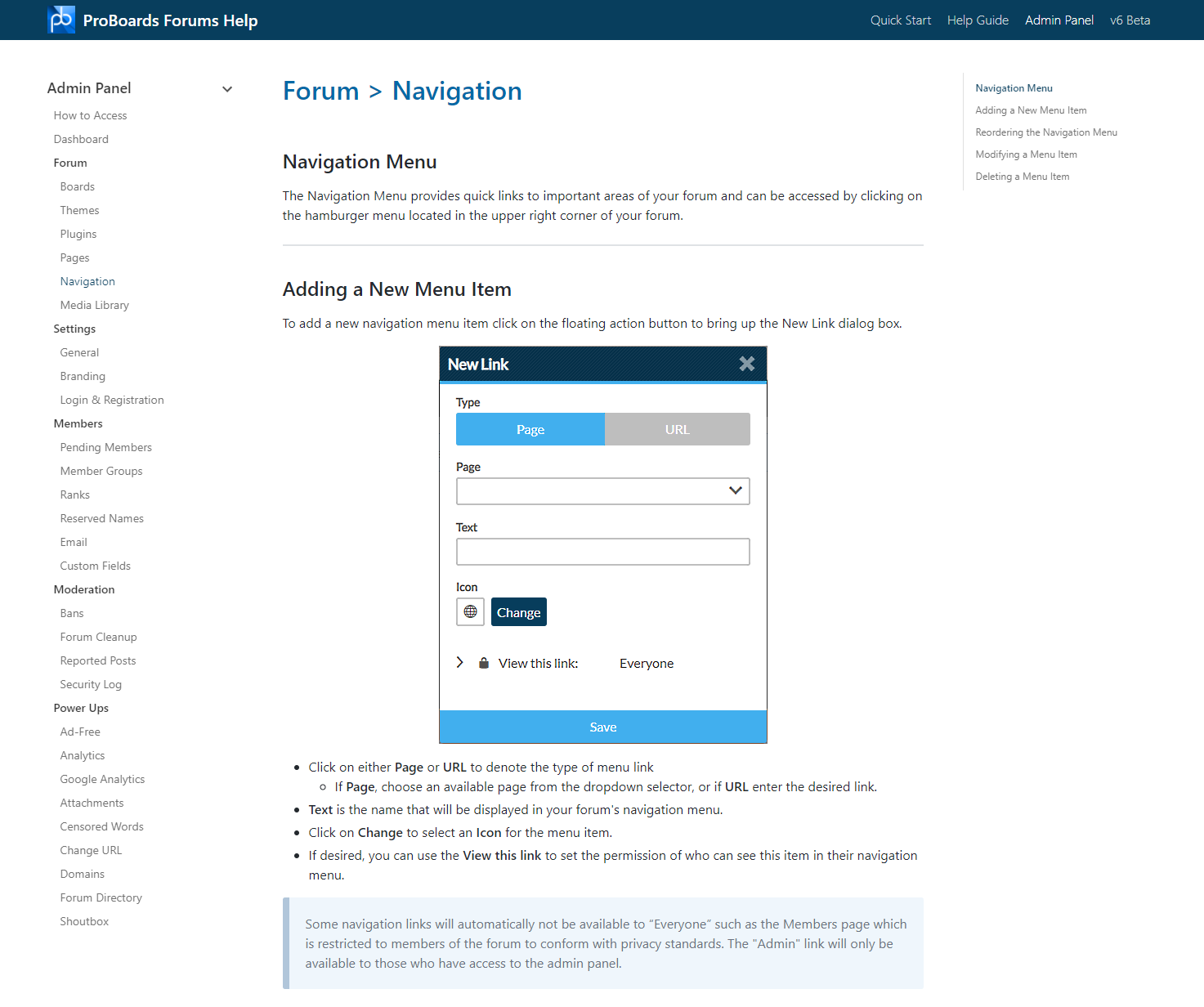 See the Help Guide in action
The new help guide is accessible today by visiting
proboards.com/help
and we invite everyone to come see it in action.
Providing feedback
The information in the guide is meant to be dynamic and changing over time, and you can help us make it better at any time! We welcome all feedback on individual pages you can find in the guide. Just click the convenient "Provide Feedback" button you will find on every page, which will bring up an easy form to fill out to offer suggestions.
We will regularly review and update the guide based on your feedback.
Upcoming Feature and Content Updates
The biggest update will be the addition of smart search capabilities and will be a priority in the upcoming updates. With the addition of search, we will integrate the help guide into the v6 admin panel. With this integration you will be able to search for articles in the guide without leaving your forum. You can already see an initial implementation of this functionality in the Help menu inside the admin panel.
The content of the guide will be updated on a regular basis, with major updates for Themes and Plugins coming within the initial phase of Beta Testing.